The Dragon Boat Festival is around!
The rain is falling on the festival. 10:00 AM on May 30th,2017, the campaign named "Thousand Miles Love Campaign" was launched at the Fenghuangling in Haidian Dist. Right before the opening ceremony, the group of 26 people from Beijing Youxin Entrepreneur Club visited Lei Diansheng's Ten Year Hiking exhibition hall in Fenghuangling.
The president of Hushin
Campaign successfully initiated
Beijing Youxin Entrepreneur Club
The club members then went to visit Hushin. 

The club crews went to the Dongfang school and were warmly welcomed by the students. They can't change the family situation but they can still do something for them. Give them hope and love.
The second day, the Children's Day, the team went to the Shijixing school for autistic children to send greetings and love. 

The students waited outside the campus.
The events displayed on the walls and the vigorous faces made every participant emotional about hope and life.  
The donation and the funds collected for the children had been entirely transmitted t the school. Every kid was happy for getting gifts from the caring people.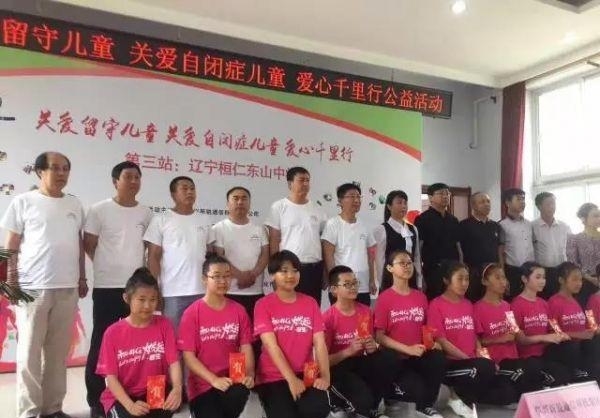 Taking photos to memorize the wonderful moment 
Then the team set out for the last destination of the trip, Dongshan middle school in Huanren, Liaoning.
The students were extremely happy for receiving gifts and rewarded the team with shows that they prepared.
The team had enjoyed the shows and took photos with the students. The campaign ended by finishing the donation in Dongshan school. The members had all obtained feelings beyond description.
Love can build the hopeful future. As the enterprise which had strong sense of responsibility, the club has always been acting on the duty and help people as much as it can.
Sincere gratitude for the enterprises and loving people in this event!
Appendix: donation details: